The archives of the NAi (Netherlands Architecture Institute) are full of architecture dreams in cardboard. Paper was the building material for buildings in scale. That paper as fragile, flammable and cheap material is also suitable for making real buildings seemed unthinkable, until recently.
There are of course a lot of finishing materials in which paper is processed. For example plasterboards, wallpaper and eco-insulation from paper shreddings. But cardboard in carrying constructions seems at best something for card houses.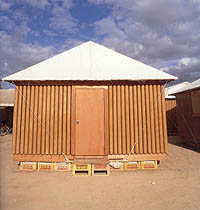 Emergency homes: a paper log house with a foundation of sand-filled beer cases, walls of paper tubes and a roof of tent material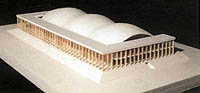 Model for the world exhibition in Hanover
Joint made for a library project - a wooden joint with cardboard tubes
Inspired by ecological motives a lot of experimenting in building of temporary and light constructions is going on. In wood, steel, plastic and more recently also in paper. A system was developed by ABT that can be used as a temporary theatre and the air treatment channels in project XX are from paper.
The idea is that when some buildings are meant to last for a short time then we should also use materials that are easily recycled. A building of paper could thus eventually end up in the paper bin. The fact that paper is made of wood and wood in a renewable material also plays a part.
That the experiments aren't limited to a small scale became clear at the 1992 world exhibition in Seville. A tower built from prefabricated paper elements marked the entrance of the area. The landmark had a diameter of 13m and a height of 33m. The biggest challenge was to make up for the large pressing- and pulling powers in the lower construction of the tower. Enough stability was obtained by aiming the sidewalls of the three-dimensional prism shaped elements to the axis of the tower. The tower was entirely biodegradable so it was recycled after the exhibition.
Still a step further is the proposal for the world exhibition in Hanover designed by the Japanese architect Shigeru Ban that has applied himself to building in cardboard. His emergency homes for Kobe are now world famous. These emergency homes for the earthquake victims in Kobe are from paper tubes. The 'Paper Log' constructions have a roof from canvas which diffusely lights the interior. The foundation consists of sand filled crates.
Shigeru Ban's proposal for the Hanover Messe consists entirely of paper. The building takes up a surface area of 3600m2. The more-stories high building of 89m long and 42m wide will come on a basement. The span of the carrying construction amounts to 35 metres and consists of bent beams of 12,5 centimetres thick pressed paper. The roof is a membrane of textile and paper synthetics.
The building serves from June 1st until October 31st as the Japanese pavilion in the Hanover Messe. It looks good on paper...
jv